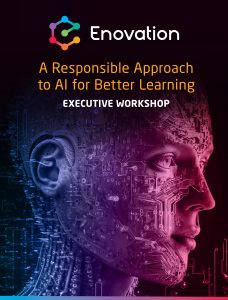 Enovation introduces the only executive workshop of its kind to help elearning leaders shape their approach to AI. As generative AI has taken the world by storm in 2023, it is imperative that organisations and institutions develop a responsible plan to harness the potential of this technology, whilst minimising risks.
This workshop is intended for senior decision makers and can accommodate up to 5 attendees per session. You'll come away with an up-to-date understanding of this rapidly evolving space and a draft strategy for your organisation.

To find out more about our AI Executive Workshop, download the flyer and fill in the form and a member of the team will get back to you.