Extending Learning Access Across the World
atingi is a global digital learning platform developed by Enovation in partnership with Deutsche Gesellschaft für Internationale Zusammenarbeit (GIZ) who manage international cooperation projects on behalf of the German Ministry for Economic Cooperation and Development.
'atingi' means 'to succeed' in Esperanto
The goal of the atingi programme is to remove obstacles to the development of successful careers for underrepresented people across the globe by making Digital Learning inclusive, accessible, relevant, safe and secure for everyone, regardless of location and access to technology.
Delivering learning to remote and underdeveloped regions with innovative solutions for mobile and offline learning.
Following a tender process, GIZ selected Enovation to be the development partner for atingi based that would:
● Ensure performance, reliability and scalability of the platform to support Millions of users
● Migrate atingi from the existing proprietary solution to an open-source platform based on Moodle Workplace
● Create custom extensions that enhance the platform in areas of learner experience, security, accessibility and manageability
● Provide consultative expertise in developing and managing a large scale digital learning platform
Beyond the Basics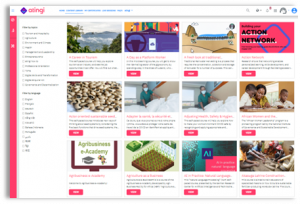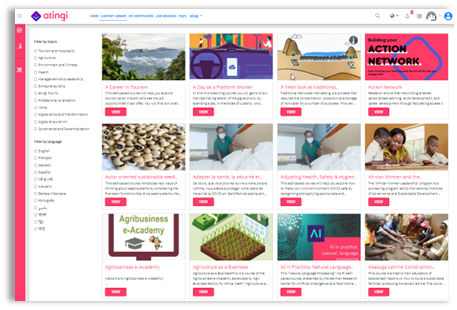 GIZ needed a partner with the capability to deliver the core functionality and scale requirements for the platform, as well as the development capacity to create custom extensions that enhance the learning experience for users. To date, over fifty feature additions have been developed. Some examples of the developments that improve learner engagement are:
A Content Library area where learners can browse and search for courses that match their interests or needs. Also available in the mobile app version
Additional Learning activities  have been added in areas of gamification, badges, course formats, document collaboration and course notifications
Learning recommendations can be made based on course subjects
Users can experience the platform in any of 8 languages currently, with new languages being added each quarter
Providing tenanted sites for country partners to deliver learning to their own users with their own brand – 'powered by atingi'.
Platform Growth and Accessibility
Enovation has also implemented several features that support GIZ in promoting the social and growth ambitions of the platform.
Courses are shareable on social media and link back to atingi
The user registration flow has been simplified to suit the target audience
Analysis and tracking applications within the atingi ecosystem are used to:

Measure the success of promotional campaigns (Using www.matomo.org)
Examine learning activity trends in user groups by key user profile metadata – gender, education, country, age group (Using www.metabase.com)
Over 300,000 learners world wide with scale to support millions
In Conclusion
The Enovation and GIZ partnership has seen the user base triple and the number of courses openly available exceed 300. Enovation project manager Ciarán O'Connell commented that "it's been a fascinating project to work on – we've loved working with GIZ on such a meaningful project, and playing our part in making digital learning and education available to as many people as possible".
"From the outset with the migration of atingi to use Moodle Workplace in a very short timeline, Enovation have shown their credentials for capability, flexibility and professionalism in working with our team. We are extremely pleased with the functional and technical development of the platform under Enovation's management."
– Dominic Orr, atingi Management (DV), GIZ
To get started on your own project with team Enovation Contact us today