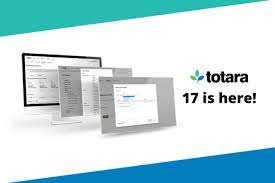 Totara Talent Experience Platform (TXP) has matured to become one of the leading learning and performance management solutions in the world, boasting over 20m users. With version 17, Totara continues to gain new features and strengthen its position as the platform of choice for organisations looking to put talent management at the centre of their people strategy.
At Enovation as Totara Platinum Alliance partners, we work closely with Totara to ensure our team is fully up to speed on how our clients can leverage the latest features.
With the vital role that notifications play in user engagement and alerting, there are new reports to help you optimise notifications, including monitoring delivery status. On the topic of notifications, there are new options to send notifications to multiple recipients
There's also a new external API (replacing the old web services approach) that allows you to connect external systems to your Totara site in a secure and extensible manner
The Weka editor sees a number of improvements, adding to its advantages as a mobile-friendly replacement for the default Atto editor. You can read more about the text editor options in Totara 17 here
And for those charged with privacy compliance, there's a welcome new feature to schedule when suspended user accounts will be deleted, making it easier to automate GDPR policies
Although V17 brings improvements across the board for all the TXP modules, it is Totara Perform that sees some of the most visible changes.
There are several UI improvements to make important information easier to see at a glance, including progress in multi-section performance activities, as well as a new UI for Goals
Performance notifications have been migrated to the centralised notification system, with additional notification triggers.
Achievement paths can now be configured in bulk rather than individually for each competency which is a great time saver!
There's also a new embedded report for performance activity response data as a CSV file
There are plenty of other smaller enhancements across Totara 17, but we know that even small changes can be important to different use cases. So whether you're thinking about deploying Totara or want to upgrade your existing instance, talk to the experts at Enovation to make sure you don't miss out on the benefits of Totara 17 – the flexible, affordable talent development platform.