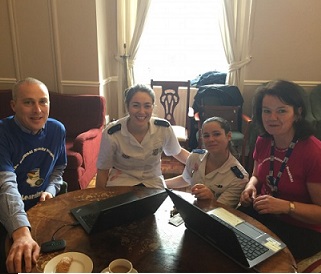 Terry Fannon can be seen here in the picture putting some of his experience in eLearning adoption strategies to great use with our client – The National Maternity Hospital (NMH). Like any other service offering, eLearning requires marketing to attract buy-in, especially for compliance related training.
A fun filled day was had promoting the benefits of eLearning to the staff of the NMH during a brown bag lunch session that was organised to promote eLearning. Enovation was delighted to lend its experience and expertise in providing some tried and tested strategies for the hospitals elearning programme to gain momentum. The session has been planned for weeks, posters, flyers and communication emails were periodically sent and displayed to staff to promote the day and create an awareness. Given the close proximity to Easter, the theme was "eLearning: Have you cracked it yet?" – colourful branding displaying a cracked Easter egg was used in the promotion along with free Cadbury's Creme Eggs being handed out!
Terry along with a number of the SME's who worked in each of the course disciplines that were developed for compliance training were on-hand in the mid-wife's sitting room to demonstrate the basics of accessing and completing the courses and to allay any fears or concerns.
Simply communicating that training time can be greatly reduced through eLearning versus classroom training, got many staff excited about it. Similarly, for staff who work shift, taking training at their own pace and time was much more appealing than spending time in the classroom and the effort to attend.
"Utilising the SME's or eLearning Champions to help in this promotion is a strategy that works very well across any sector. Having the right people on your side is a huge advantage in getting your message across. These are individuals who previously delivered the training in the classroom, the staff already have a trusting relationship with them. Learning about the benefits of eLearning through these people really benefited today's session." – Terry Fannon, Senior Solutions Consultant – Enovation Solutions.
Free Infographic - The 5 Key Benefits of eLearning in your organisation Download Now