What is Alfresco?
Alfresco is an open platform for business-critical document management, records management and collaboration.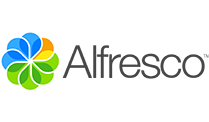 Open Source Document & Records Management
Enterprise document management and records management solutions(ECM) are often perceived to be expensive to implement with high annual licensing fees.
Alfresco  is a proven open source ECM system with over 7 million business users in 75 countries, managing 4 billion documents, records, processes – behind the firewall, in the cloud or on their mobile devices or as a hybrid option.  Alfresco continue to enhance the offerings with exciting technology developments and has recently combined Cloud and On-premise infrastructure for a Hybrid ECM (Cloud connected content) offering for the market.  Alfresco continues to develop open source document management and open source record management solutions for its community.
Enovation implements Alfresco Services and solutions (managed services include hosting, customisation, integration, training and support) for clients as diverse as:
For several clients it has been implemented as a secure external portal so that dispersed project teams from different organisations can collaborate on content and documents using web 2.0 social functionality combined with workflow and a powerful document library.
Sample use cases are:
  Open source 

Enterprise document management/ Enterprise content management

  Open source 

Records management

 

Project collaboration

 

Cross / intra-university

 

Construction projects

 

Any project which includes internal and external stakeholders
  Cloud connected content
Some Alfresco features
Cost Efficiency  No upfront license fee – with no lock in!. Alfresco is implemented in half the time, at half the cost of proprietary ECM vendors.  This allows your business to reuse your IT resources elsewhere, deploy on an open stack and get to market faster.
Lower Risk Alfresco's open source document management software offers a single repository for all electronic documents, workflow portfolios and other unstructured content—reducing information silos and redundant data. Unified document management of all electronic files reduces maintenance, leverages a single content standard, and removes end user complexity and versioning errors.   It is a complete collaboration software solution.
Compliance The Alfresco Platform simplifies recordkeeping and our automated document management retention & destruction models enable regulatory compliance created by the Dodd-Frank Act and BASEL III. Alfresco provides fully automated routines that convert documents from proprietary formats into long-term archival formats, such as PDF/A and ODF. The Alfresco's open source Records Management module is DoD 5015.02 Certified.
Open Standards Alfresco interoperates with existing front-end applications, desktop software and enterprise infrastructure. Use protocols like CMIS, CIFS, WebDAV, RESTful APIs and Soap—our open approach makes innovation and adoption easy and minimizes expensive recoding. Administrators can define unique metadata to support business needs and dramatically improve contextual search.
Business Process Alfresco can leverage existing organizational workflows, and provides award-winning BPM capabilities that can reduce your firm's decision cycle times and increase productivity. Alfresco services offer complete content management and content collaboration.  The audit capability tracks who did what and when for each record and automatically prompts users when records are reviewable, in process or approved.
Find out more about the extensive range of product features and uses on Alfresco .
Read more about our solutions or contact us today to find out more.